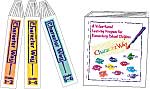 Character Way is a video-based learning program designed to help children develop into caring, respectful, responsible people who know what's right, want what's right, and do what's right.
Each two-grade module (Grades 1 and 2, 3 and 4, and 5 and 6) is organized around a delightful collection of short videos which convey, in an entertaining and thoughtful way, such positive qualities of character as honesty, fairness, and altruism. These video dramas, fables, documentaries, and games provide teachers with a fun way to teach good values and engage young students in lively, meaningful class discussions.
Character Way is an excellent first step into character education, as well as an exciting supplement to already-existing programs.
Each module contains a videotape for student viewing, a teacher training video, and a teacher's guide including discussion questions and lesson plans.